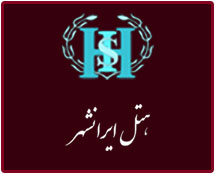 Iranshahr Hotel is one of the oldest hotels and with the greatest history in Iran which opened in 1953 in the name of Loozan Hotel by late Hossein Ali Alborz, the founder of Alborz Cultural Institute.
It was renovated in 1981 by new management and began work in the name of Iranshahr Hotel.
Iranshahr Hotel is located in the central part of Tehran, and provides accessing to all the important places of Tehran such as Bazar, airport, terminal, railways, places of interest and museums, most ministries and central agencies.
Eye-catching decoration, modern multimedia system, telecommunication facilities, broadband internet and satellite dishes that are considered in hotel suites and rooms, and also facilities such as parking, taxi service, and laundry and hotel website aimed at providing more welfare for the guests.
Kashkool traditional restaurant provides relaxing environment and beautiful and nice moments for guests with Iranian and foreign cuisine.